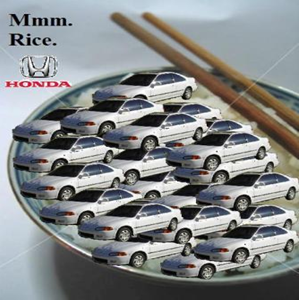 ' Staples: serve steep, solicit sapient submissions, siege societal security scaffold. Strip Staples. '
Rice Shortage Bubble

The heaviness of this alarm ringed every ear, every nose bleed, and haunted every pocket of each ordinary Filipino when the Philippine business community announced rice shortage lately. Succeeding The inevitable increase in price of 1 Kilo of rice, which is a daily everything to every Pinoy, taunts all in line from the office bosses regularly paid to the peanut vendors. The idea that each commodity in the country equates to certain half, double, triple or powers of rice exchanges, all prices of general commodities threaten to hike up with the rise in rice price. The commotion reached the blog posts of
Ana
,
Benson
,
Geramae
,
Gerthy
,
Jennie
,
Joni
,
Kebelle
,
Marie
,
Marikenya
,
SirKramic
,
Vincent
, and
Webster
. There is so much more to bubble about rice shortage yet I am not interested on it anymore. Let the economic tyrant (read my e-opinion below if you can) play its violin for a while; simply avoid dancing with his tune.
Changing Serving
Just take this bowl: There are tyrants in our lives which we can drive out - our dependence to staples in us. Not necessarily rice, oats, maize, potato, bread, pasta, noodles or cassava, but the daily sellable and unsellable commodity we are dependent of such as electricity, TV series, frozen foods, air-conditioned environment, water heater, branded clothing, ATM machines, push button gears, soda machines, text message alert tones, cell phone reminders, coffee breaks, desktop calendars, lap tops, razor kit, 15 minutes fame, security advisers, loan makers, bogging... oops.... add more what you can recall. They became our daily respirators. Ouch! But how about getting free from this life staples which for some long whiles accompanied our breathing? Doing it is exactly reculturing so I am not suggesting moving totally away from it but simply gain independence from it. Recall how the rice shortage bubble like dominoes every affected less important economic commodity. More bowls...
To Provoke the Senses
Do you find yourself dependent on something or someone? Dependence is not bad. However we should try to be independent from the thing we are dependent of so as to avoid addiction - which is a greater degree. There is more to life than one single thing.